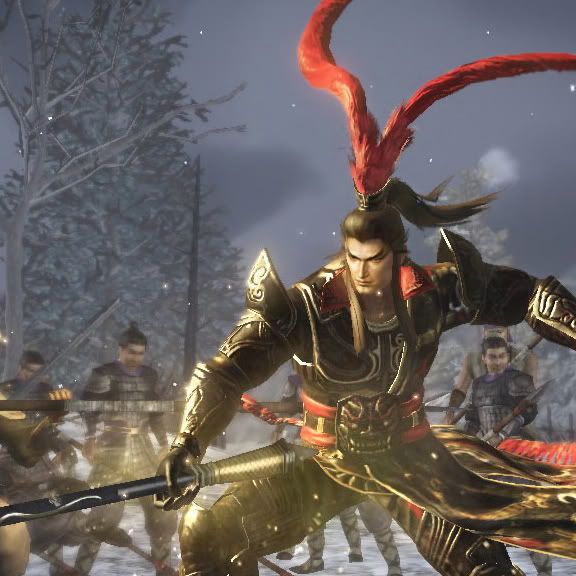 Three years have come and gone since the last numbered Dynasty Warriors game. We've had expansions and spinoffs since then, but the main driving force of the series has been awfully quiet, until now!
This is Dynasty Warriors as we know it. The basic story of the game shouldn't surprise you at all. What might surprise you though, is their new take on the story now. No longer do you pick a character and run haphazardly through ancient China, destroying the historic tale and completely making no sense of how things turn out. Instead, the new story mode follows the epic tale of the three kingdoms almost perfectly. You pick one of the four major factions, and play through their entire part of the story, switching between characters where it fits, seeing many deaths of allies and the ultimate end to what happened to the side you picked.
The story isn't the only big change to the system either. Along with that, Koei has done an excellent job updating the visuals. It took a while, but the series has finally been given the next gen looks it needed. While you're still battling generic chinese soldiers, at least their armor looks awesome now, and the sunlight shines off your weapons as you mow all of them down. The visuals carry over into the cinemas as well. Every character looks well detailed, and the over the top action really is a joy to watch. To top it all off, each cinema flows right into the actual gameplay, a neat trick that many other games could learn from.
While a more coherent story and pretty graphics are all well and good, they wouldn't make much of a difference if the gameplay didn't hold up. There's no big surprises here for anyone that's not been living under a rock. You still play as a massively powered general in an army, killing soldiers by the dozen with single swings of your preferred weapon; there are some changes though. For one, each character can use almost any weapon in the game. Each weapon is rated for compatibility with who you choose, and you can carry two weapons at a time, switching between them on the fly. There is a standard weapon for each general though, and using that does allow them to perform special moves totally unique to them. Also new is the ability to store your special Musou attacks. You can have two kept in store at any time, ready to unleash on the mobs around you. It makes it easy to clear out entire sections at once, or to make a quick escape if you need to.
With all these new things added into the mix, a few things have been removed for this newest entry. Gone completely is Free Mode. No more can you pick a level and rush off to fight. In its place, is the all new Conquest mode. Here, you pick a warrior and battle across a hex styled map, leveling up and collecting new rewards along the way. While it's certainly a great distraction, and particularly fun in multiplayer, it's sad to see something like Free Mode vanish. It makes it harder to get a quick pick up game when you don't want to spend hours working through a campaign.
At the end of the day, Dynasty Warriors 7 is the new king of the series, even besting the third game. If that means anything to you, you've probably played these games as long as I have, and you've already bought this one. If you're someone who's never tried playing one, or you were turned off by the too little improvements of the past titles, Dynasty Warriors 7 is the game that could get you addicted to the series.