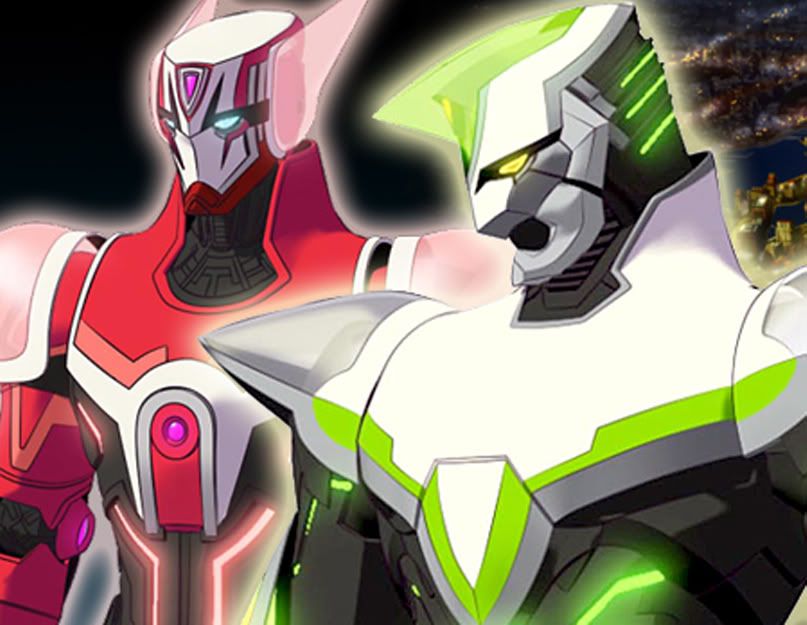 Imagine a world where super heroes exist, easy right? Now  let's take that imagination a step further and induce a little reality into it. If there were a bunch of super heroes gallivanting about, don't you think there would be people that would want to turn it into something to profit from? Don't you think that every second of their lives would be scoured by the media? Don't you think, given our societies love for "Reality TV", that it would all be televised? Well, the creators of Tiger & Bunny certainly think it would work in such a manner. Welcome to Sterbild City home of Hero TV.
Roughly 45 years ago people with super powers started appearing in Sternbild. Big businesses, seeing the amount of exposure these heroes got, started sponsoring them. It wasn't long before all of their feats were televised and scored by a show called Hero TV. Now heroic deeds are being done by a group of heroes, not just because they will aid the city of Sternbild, but  also to get more popularity and points which in turn does good for their sponsors. There is, however, one hero among the others that wants to do things as a hero should. This hero is the veteran Kotetsu T. Kaburagi, better known as Wild Tiger. He isn't in it for the points or the glory, which goes bad in terms of his sponsorship. Things, seemingly, couldn't get any worse… or could they?
The animation and art are both very well done, but that should be expected from a studio like Sunrise. The characters, while a bit cliche, have many sides to them and definitive reasons behind their actions. There is a good sense of pacing to the story telling, thus far, and I hope it continues that way as there are only 25 episodes currently planned. I'm hoping to see more character development before things really hit the fan, but it's hard to say at this point.
This anime is one I can easily recommend to fans of super heroes, obviously, but there are qualities within the show that may appeal to just about everyone. It's nice to see an anime that balances things so well as to appeal to both the older and the younger set, though this may change as the series continues. Tiger & Bunny is currently streaming with subtitles on Hulu.