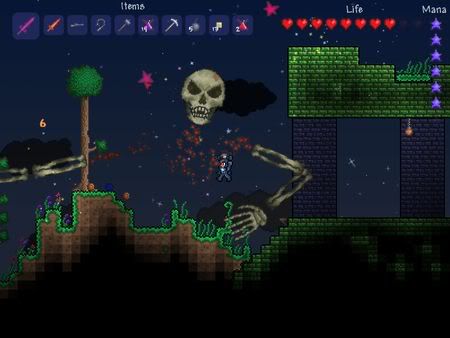 After the success of Minecraft I wasn't surprised to learn that a similar game had come up on the horizon. While the game focuses on mining and crafting, much like Minecraft, the similarities end there. Terraria is more a "game" than Minecraft and the side-scroller 16bit style graphics help differentiate the game quite a bit.
Players start out almost immediately in danger and must quickly create a place for which to live in. From there it's time to explore and gather resources, create new items, and defeat bosses. When certain criteria is met, NPCs will move in and allow players to use they're services. Much like Minecraft, there is no "end" to the game, but there are definite tiers to what can be crafted and what can be explored.
The area above ground is the safest area, spawning only slimes during the day. However, it becomes rather dangerous at night as zombies roam the lands with flocks of demon eyes dotting the skies. Venturing away from home one will find the Corruption, tainted land where hidden treasures lie. There is also a Dungeon, a molten core, a jungle and floating isles to explore in search of ore and treasure. Each area has it's own monsters and dangers, some requiring more skill and better gear than others. There is a lot to make and find, and getting everything could prove tricky as much of it is rahter rather, or requires some grinding to procure enough.
I mentioned bosses, of which there are four. Each boss is different, and the circumstances for fighting them differ as well. Defeating the bosses will reap rewards, especially Skeltron who guards the Dungeon. There is also the Goblin Horde to deal with along with many special mobs. Despite all the adversaries, though, it is quite easy to best them in only a few days time which then lead to boredom for me. Unlike Minecraft, there is little to do outside of what is available. However, the game is receiving a lot of updates, the latest one including the newest fourth boss as well as many other additions. If updates like this continue, I'm sure it will be enough to keep most players more than happy.
I can easily say that Terraria is worth it's price, especially for the multiplayer aspect of the game. While I garnered less playtime with Terraria than I did with Minecraft, others might enjoy the more structured world. Terraria can be purchased on Steam for the low price of $10.